Earlier this month we had our EWBKA Beginners' Course. We held it in the GIY HQ in Ardkeen this year and it made an ideal venue on many levels. Heather and her team were perfect hostesses and hosts and put a lot of work into advertising the event and organising bookings, food etc. (the food was excellent, produced in the HQ's own kitchen) Mike Hughes really appreciated this as it was Mik, himself, who would have done all this, singlehandedly, over the previous years. Míle buíochas do gach duine san ionad FTF (Fás Tú Féin!!) We had eleven on the course and, hopefully, we'll have eleven new keepers of bees in the Waterford area.
One section of the course dealt with choosing a site for your apiary and as our Secretary, Pat Crowley, delivered this talk my mind wandered to the quality of the site for my own hives. For the last few years, the Biodiversity Centre in Carriganore have bee-n kind enough to allow a few of us set up an apiary adjacent to their centre. Just like the good folk at GIY HQ, Thomas and his colleagues appreciate our buzzing friends and enjoy having them on site. It excels in one of the main criteria that defines the perfect site for an apiary – accessibility. You can drive right up to within a few metres of the hives. This is great, in April, when you're bringing up the empty supers. But its brilliant, in August, if you need to carry full supers back to the car. Unfortunately, since we sited the hives there I've never had any great crop form any of my hives.
(At this stage Mike Hughes will break into song and dance about the "six super supers" that he got there a few years ago. But its a well-known fact that Mike talks to his bees and I'm reliably informed by my spies in the Biodiversity Centre that phrases like "Now my darlings, its ok to rob from Kavanagh's hives" and "God save our Queen!" were heard on many occasions during that year's Honey Flow. Bitter? I'm not bitter! I'm way past bitter!!)
As I was saying, while the apiary had excellent accessibility there hasn't bee-n any great crop of honey. So I thought about Pat's number one criteria when choosing a site – the availability of nectar and pollen. Immediately adjacent to the site in Carriganore are the following:
The River Suir
The Waterford By-Pass
Well Mown GAA Pitches (Thanks Eamonn!)
Equally well-mown grass verges (Thanks again, Eamonn!!)
Lots of Car Parks
So, I had an idea to use Google Maps satellite view to look at my hives from on high and see what was available to my bees. As the bees will travel up to 1.5 miles when foraging I superimposed three circles marking 0.5 miles, 1 mile and 1.5 miles and here's the result.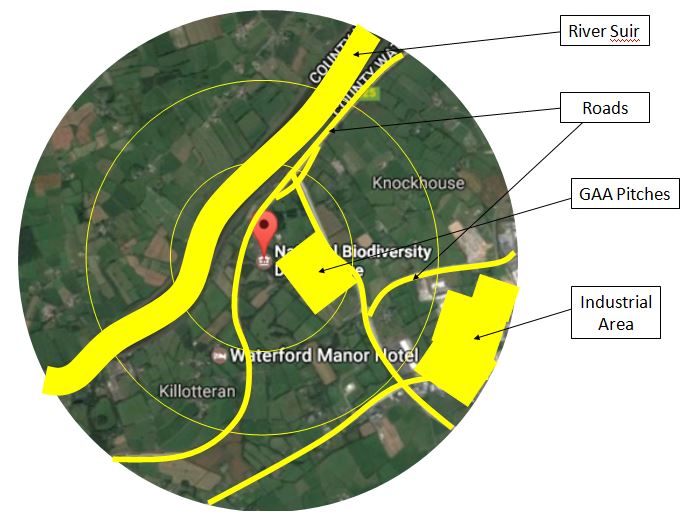 As you can clearly see the central circle is almost fully yellow so this isn't a great site for foraging. However, it is a brilliant site for access. So, as a result of the above, I'm intending to move some of my hives to a different location. I'll probably keep one there and also use the site to hold newly caught swarms.
Anyway, now with the recent burst of sun the dandelions are up and running and so is this year's season. I'll have my first examination of the hives within the next few days.